Delicious Traditional Foods of Brebes Regency, Central Java Province
---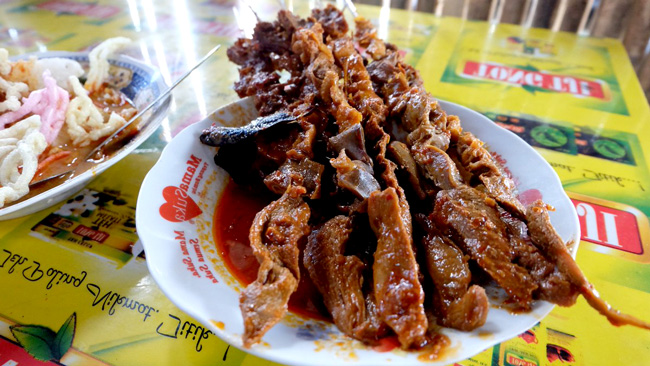 One of the reasons for visiting Brebes Regency is to try any available local foods and snacks. In a nutshell, people recognize the region as the center of the salted egg production. However, other unique and delicious foods are available for tourists to try during the visit. Both the ingredients and recipes are unique, so tourists won't find those foods in other regions. So, what are they? These include Sate Kambing Muda, Soka Crab, Blengong, Local Fried Chicken, and Glabed. All of them are tasty! Not to mention the price is quite affordable. Plus, it is easy to find them!
The Best Places to Eat
For some tourists while in Indonesia, the best place to get those foods is at the hotel where they are staying. Well, they are not wrong. However, the price may be more expensive as compared to local eateries. Also, the nuance is different if they decide to come to local eateries and eat together with the locals. Somehow, it gives a more satisfying sensation to them. On top of that, they have the chance to see how those foods are made directly.
Enjoying Those Delicious Traditional Foods
The good thing is tourists can choose various local foods freely, based on their preferences. The first option is called Sate Kambing Muda or goat skewer. Instead of using lamb, villagers take advantage of chevon! No wonder, it has a softer texture so everyone can bite the meat easier. Plus, it comes with an extra portion! Not to mention the spices are excellent, creating a distinct taste for tourists to enjoy. Moreover, it is easy to get the foods, as many local eateries provide it.
The next popular culinary in Brebes Regency is called Soka Crab. In order to get this food, tourists should head to Mangrovesari Kaliwlingi. The unique characteristic is that the crab has soft shells. Plus, it comes with excellent spices and side dishes. Even though the price is a little bit expensive as compared to others, this one indeed becomes the best food to try in Brebes. As an alternative, there is Blengong or duck meat. It comes with savory broth and delicious spices. The good thing is tourists can get the grilled version as well.
When visiting Brebes Regency, tourists should not forget to try the local fried chicken. Both the taste and texture is different as compared to other chicken, so everyone should try it. Later, before going back home, it is recommended to try Glabed as well. This one is similar to a rice cake, but it has a richer taste and more interesting appearance!
Nearby Attractions

Responsibility Sari Waterpark
Luwunggede Field
Gunung Nyapah
Cisadap Baura Dam
Lemah Gendong Mountain
Grinting Mangroves
Beko Lake
How to Get There
To try the original taste of those foods, tourists should come to Brebes Regency directly. If they come from Semarang City, the trip may take about 5 hours as the distance is 210 km. Have no worries. It would be faster if they take Raya Pantura Street. As for the tip, it is recommended to come with a tour guide who can tell the best places to eat those foods!
Where to Stay

D'Rain Hotel
Kedaton Hotel
Primebiz Hotel
Alexander Hotel
Anggraeni Hotel

Latest News
One of the many Dutch heritage forts, Van Der Wijck Fort is unique because the entire building is made of red brick. You've seen? This fort with an octagonal plan looks more charming with its red color, compared to Dutch forts which are generally colorless or white. It looks like the fort from the front and inside uses red bricks, but still with the characteristics of a Dutch fort in Indonesia which has a large building structure, such as windows, doors and rooms. With an area of 3606,625 square meters,…
---
Magelang has a number of temples as the favorite tourist destinations. Besides Borobudur, you can visit several other places, such as tourist villages. There are several tourist villages around Borobudur Temple with a unique and interesting atmosphere. In addition to saving nature, you can also get to know the culture behind it. Temanggung VillageTemanggung Village was viral because it was called Nepal van Java. The view of the village at the foot of Mount Sumbing is really epic. Tanjungsari VillageIf you are interested in the process of making honey, you…
---
Punuk Sapi BeachPunuk Sapi Beach is also popularly known as Pantai Lemah Abang which means "red land beach". It is named so because this beach is indeed filled with mounds to hills with red soil that at first glance looks like a cow's hump (punuk sapi is cow's hump in English). This beach has black sand, but it is also beautiful like the white sand beaches. There are hammocks and swings that you can use to relax, as well as take pictures from a height. This beach is located in…
---
Arjuna Temple complex is the most photographed and visited of the surviving temples on the Dieng Plateau. Situated just a few hundred meter from the homestays in Dieng village, they are an obvious first stop on a tour of the sights in the area. Though they are far from the most imposing of Javanese temples, they are the earliest surviving Hindu temples in Central Java, so they are of great importance historically. Built a century or two before the great temples around Yogyakarta and Magelang, they mark the original phase…
---