Famous Traditional Dances of Brebes Regency, Central Java Province
---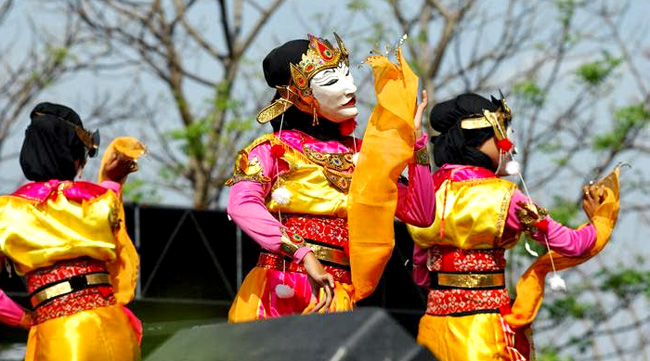 Brebes Regency is known for its culinary and beautiful highlands. No wonder, lots of tourists come to the region regardless their location. However, Brebes offers more than those attractions. It is because visitors can also witness various traditional dances at a specific time. Thanks to the Indonesian locals. They keep retaining such art performances for generations, especially as an entertainment. The fact is that tourists can find many types of them including Topeng Dances, Kuda Lumping, Reog Banjarharjo Dance, and Ronggeng Kaligua Dance. Each of these dances is unique and offers a distinct entertainment to the audience!
The Nuance
In terms of nuance, all dances emit both fun and sacred atmosphere. As if, the dancers hypnotize the audience during the performance. Moreover, each dance features distinct movements and attires! No wonder, tourists won't get bored watching them. They must consider several things, though. First, it is related to the time. The fact is the dances are performed only at a specific time, so tourists should get the schedule first. The next consideration is related to the place. Make sure to look for information regarding where the dances will be performed first before heading to Brebes. No wonder, hiring a local guide is quite recommended.
More about the Dances
When it comes to traditional dances of Brebes Regency, many tourists may have recognized several mask dances. One of them is called Losari Mask Dance! As the name suggests, it develops in Losari Sub-District and has been influenced by the neighboring region which is Cirebon Regency. The dance tells a story of a man called Joko Bluwo, who has an ugly face. He wanted to propose to a beautiful princess Candra Kirana. Somehow, he was successful as he was able to defeat a giant who also wanted to propose to that woman.
Another popular mask dance that tourists can enjoy in Brebes is called Sinok. The founder was Suparyanto, actually. The dance shows the beauty and travail of a woman. In a nutshell, it represents all the women who live in Brebes. What is more? There is also Reog Banjarharjo Dance. Even though it is almost extinct, the dance keeps attracting tourists from other regions. One thing, it is a little bit different as compared to that of Ponorogo's Reog.
The next popular traditional dance in Brebes Regency is called Kuda Lumping. In terms of name, "Kuda" means a horse and "Lumping" means animal's leather. No wonder, the dancers use such ornament during the performance. Not only the dance looks unique, but it also emits a mystical nuance as well! Another interesting dance to enjoy is called Ronggeng Kaligua. The purpose of this dance is to entertain the audience. As the name suggests, tourists can enjoy this at Kaligua region.
Nearby Attractions

Responsibility Sari Waterpark
Luwunggede Field
Gunung Nyapah
Cisadap Baura Dam
Lemah Gendong Mountain
Grinting Mangroves
Beko Lake
How to Get There
The best way to watch those dances is to come to Brebes Regency directly. From Semarang City, tourists may spend about 5 hours to get to the destination. It is because the distance is 210 km. Once arriving at Brebes City, they can look for a local guide and get the information regarding those dances right away.
Where to Stay

D'Rain Hotel
Kedaton Hotel
Primebiz Hotel
Alexander Hotel
Anggraeni Hotel

Latest News
One of the many Dutch heritage forts, Van Der Wijck Fort is unique because the entire building is made of red brick. You've seen? This fort with an octagonal plan looks more charming with its red color, compared to Dutch forts which are generally colorless or white. It looks like the fort from the front and inside uses red bricks, but still with the characteristics of a Dutch fort in Indonesia which has a large building structure, such as windows, doors and rooms. With an area of 3606,625 square meters,…
---
Magelang has a number of temples as the favorite tourist destinations. Besides Borobudur, you can visit several other places, such as tourist villages. There are several tourist villages around Borobudur Temple with a unique and interesting atmosphere. In addition to saving nature, you can also get to know the culture behind it. Temanggung VillageTemanggung Village was viral because it was called Nepal van Java. The view of the village at the foot of Mount Sumbing is really epic. Tanjungsari VillageIf you are interested in the process of making honey, you…
---
Punuk Sapi BeachPunuk Sapi Beach is also popularly known as Pantai Lemah Abang which means "red land beach". It is named so because this beach is indeed filled with mounds to hills with red soil that at first glance looks like a cow's hump (punuk sapi is cow's hump in English). This beach has black sand, but it is also beautiful like the white sand beaches. There are hammocks and swings that you can use to relax, as well as take pictures from a height. This beach is located in…
---
Arjuna Temple complex is the most photographed and visited of the surviving temples on the Dieng Plateau. Situated just a few hundred meter from the homestays in Dieng village, they are an obvious first stop on a tour of the sights in the area. Though they are far from the most imposing of Javanese temples, they are the earliest surviving Hindu temples in Central Java, so they are of great importance historically. Built a century or two before the great temples around Yogyakarta and Magelang, they mark the original phase…
---