Visiting Brebes Regency in Central Java Province
---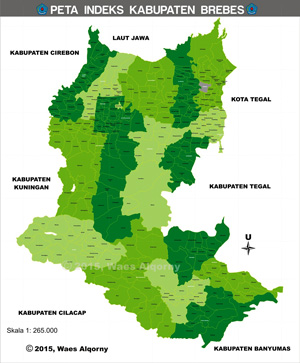 When visiting Central Java Province for a vacation, tourists should drop by at Brebes Regency. The fact is that Brebes is the second largest city in Central Java after Cilacap Regency. Not to mention it has a huge number of citizens! Plus, visitors can find many allures there including natural attractions, history, culture, and many others! That means it can be a great alternative to spend a family recreation or other fun activities like adventure and relaxation. Even many foreigners have recognized the tourism potential of the region and they often visit Brebes during a long holiday.
The Nuance
Brebes Regency is located between 1 – and 2000 meters above the sea level. That means it features various landscapes for tourists to explore. However, several sub-districts have a similar topography. In the north part of the region, tourists may find lowland and hills. On the other hand, in the south part, they may find mountainous areas. The highest part is actually Sirampog Sub-District, having the height of 875 meters above the sea level. In terms of size, Brebes has the width of approximately 1902.37 km per square!
Exploring Brebes Regency
So, what can tourists do in Brebes Regency? Once arriving at the region, it is recommended to learn a little bit about the history of it. For instance, it is related to the name. Brebes derives from two words, which are "Bara" and "Basah". The whole meaning is a vast area with a wet condition due to a lucrative amount of water source. The name represents the geography condition of the region itself, after all. According to the locals, the name was given during Mataram Era. At the time, Brebes was part of Tegal Regency!
The next common reason for visiting Brebes Regency is to explore the beaches. Three types of beaches are available for tourists to visit, including Delta, Teluk, and Lurus. The difference lies in the characteristic, actually. In this case, tourists should ask a tour guide first regarding the reference before visiting any of those beaches. Not only Brebes has beautiful beaches, but the region also has other natural attractions including hills, mountains, rivers, and much more. Make sure to visit all of them, therefore.
For those visiting Brebes Regency, they must not miss the chance to eat delicious local foods. Many types of them are available including goat skewer, Soka crab, Blengong, and Glabed. After eating, do not forget to witness various types of local traditions and performances including Sinok, Banjarharjo, and Kuda Lumping Dance. Make sure to know the schedule first before watching, though.
Nearby Attractions

Responsibility Sari Waterpark
Luwunggede Field
Gunung Nyapah
Cisadap Baura Dam
Lemah Gendong Mountain
Grinting Mangroves
Beko Lake
How to Get There
From the capital of Central Java Province, Semarang City, tourists can directly head to Brebes Regency by available local transportation service. The distance between those regions is 210 km. That means the trip takes approximately 5 hours. Have no worries. It can be faster if they take Raya Pantura Street.
Where to Stay

D'Rain Hotel
Kedaton Hotel
Primebiz Hotel
Alexander Hotel
Anggraeni Hotel

Latest News
One of the many Dutch heritage forts, Van Der Wijck Fort is unique because the entire building is made of red brick. You've seen? This fort with an octagonal plan looks more charming with its red color, compared to Dutch forts which are generally colorless or white. It looks like the fort from the front and inside uses red bricks, but still with the characteristics of a Dutch fort in Indonesia which has a large building structure, such as windows, doors and rooms. With an area of 3606,625 square meters,…
---
Magelang has a number of temples as the favorite tourist destinations. Besides Borobudur, you can visit several other places, such as tourist villages. There are several tourist villages around Borobudur Temple with a unique and interesting atmosphere. In addition to saving nature, you can also get to know the culture behind it. Temanggung VillageTemanggung Village was viral because it was called Nepal van Java. The view of the village at the foot of Mount Sumbing is really epic. Tanjungsari VillageIf you are interested in the process of making honey, you…
---
Punuk Sapi BeachPunuk Sapi Beach is also popularly known as Pantai Lemah Abang which means "red land beach". It is named so because this beach is indeed filled with mounds to hills with red soil that at first glance looks like a cow's hump (punuk sapi is cow's hump in English). This beach has black sand, but it is also beautiful like the white sand beaches. There are hammocks and swings that you can use to relax, as well as take pictures from a height. This beach is located in…
---
Arjuna Temple complex is the most photographed and visited of the surviving temples on the Dieng Plateau. Situated just a few hundred meter from the homestays in Dieng village, they are an obvious first stop on a tour of the sights in the area. Though they are far from the most imposing of Javanese temples, they are the earliest surviving Hindu temples in Central Java, so they are of great importance historically. Built a century or two before the great temples around Yogyakarta and Magelang, they mark the original phase…
---